Let NYC. Handyman take that "To-Do" List off your hands
We are New York Handyman Services and we "Love Lists". Whether it be a "To-Do" List, "Maintenance" List, "Punch" List, or Whatever your List may be, we have you covered. With just one call, text or email you can have NYC Handyman services start eradicating your TO-DO list Today. So Dismiss that List to us, you'll be so happy you did.

What's on your list?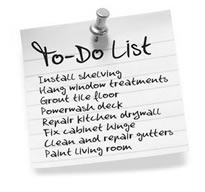 Just call - text - email or completion of our quick quote request form, with your project details and your free estimate, will be on its way, pronto. We can schedule and price your handyman service requests by the hour, by half-day increments, by full days or by the week. Busy schedules leave little time for Residence Repairs and Odd Jobs. Now your growing "To Do" list seems overwhelming and unmanageable. Where do you even start? Let New York Handyman Services handle it. NYC Handyman is Professional. Safe and Reliable. Our handyman services are on-time, on-budget, every-time -- that's our guarantee. New York Handyman completes all your major - minor home and small business repairs in a quick, efficient manner. We keep your free-time, free. Let us take care of that "To Do" List, for you today, so you can spend your valuable free time doing things you really enjoy.
If you own or rent a residence or business in the New York City area, it can be very difficult getting a contractor to your door for a "small" job. We specialize in providing reliable repair, improvement and maintenance services for those jobs for which you don't need a general contractor but that are just too complicated or time-consuming to do yourself. Whether you're looking to refurbish your kitchen, paint a bathroom or hang some pictures, one call does it all. We are New York's #1 Handyman Service and Home Improvement Professionals. Let New York City Handyman handle your Remolding, Repairs, Odd Jobs and Home or Business Renovations, Big and Small, We Do it All. Contact your Local-Family owned and operated New York City Handyman Service to plan your next Home, Office or Business improvement Project/Job or List Today, Call or Text us at.... 347-768-2503.

KEY WORD TAGS: HANDYMAN, NYC, NYC HANDYMAN, HANDYMAN SERVICES, NEW YORK HANDYMAN, HOME REPAIR, REPAIRS, MAINTENANCE, COMMERCIAL, RESIDENTIAL, HOME REPAIRS, DIY PROJECTS, HANDYMAN PROJECTS, HANDYMAN MAGAZINE, THE FAMILY HANDYMAN, HAND MAN, HOME IMPROVEMENT IDEAS, HOME IMPROVEMENT, HOME REMOLDING IDEAS, HOME MAINTENANCE, HOME RENOVATION IDEAS, BIG JOBS, SMALL JOBS, ODD JOBS, A HANDYMAN, HANDYMAN COMPANY, HOMEOWNERS HANDYMAN, REPAIRS HANDYMAN, HIRE A HANDYMAN, HIRING A HANDYMAN, HANDYMEN, HANDYPERSON, HANDWORKER, HANDYMAN TRADE SKILLS, REPAIR WORK, INTERIOR AND EXTERIOR HANDYMAN WORK, SIDE WORK, ODD JOBS, FIX-UP TASKS, FIX, FIXING, FIXING LEAKS, LIGHT JOBS, TRADESMEN, TECHS, BUSINESS REPAIRS, BUSINESS MAINTENANCE, SEASONAL HANDYMAN JOBS, SEASONAL HANDYMAN SERVICES, DO-IT-YOURSELFERS, REASONABLY PRICED HANDYMAN HOME AND BUSINESS IMPROVEMENT SERVICES, EASY ON THE WALLET HANDYMAN SERVICES, LOW BUDGET HANDYMAN SERVICES, COST EFFECTIVE HANDYMAN SERVICE, THE LOWEST HANDYMAN RATES IN NEW YORK STATE, NEW YORK'S HANDYMAN CONNECTION, BROOKLYN HANDYMAN CONNECTION, QUEENS HANDYMAN, WE PAINT, REMODEL, REBUILD, REPAIR, FIX, ASSEMBLE, CAULK, SPACKLE, RESTORE, HANG, MOUNT, INSTALL, TO DO LIST, PUNCH LIST, CHECKLIST, WE KEEP YOUR FREE TIME, FREE, WE DO IT ALL
Are you looking for a Handyman in New York City? If you are on the search for affordable and professional Handyman Work, NYC Handyman Services has you covered. Our Crew of Handyman are top notch, respectful, tidy and professional. No job is too big or small, so give us a call, text or email now, we are New York's most Affordable Handyman Service, we were voted New York City's Number One #1 Handyman Company for the second year straight.
We Paint, Clean Gutters, Rebuild, Assemble Furniture, Clean, Sheetrock, Hang Pictures, Mount, Install, Yes We.....Do-It-All.